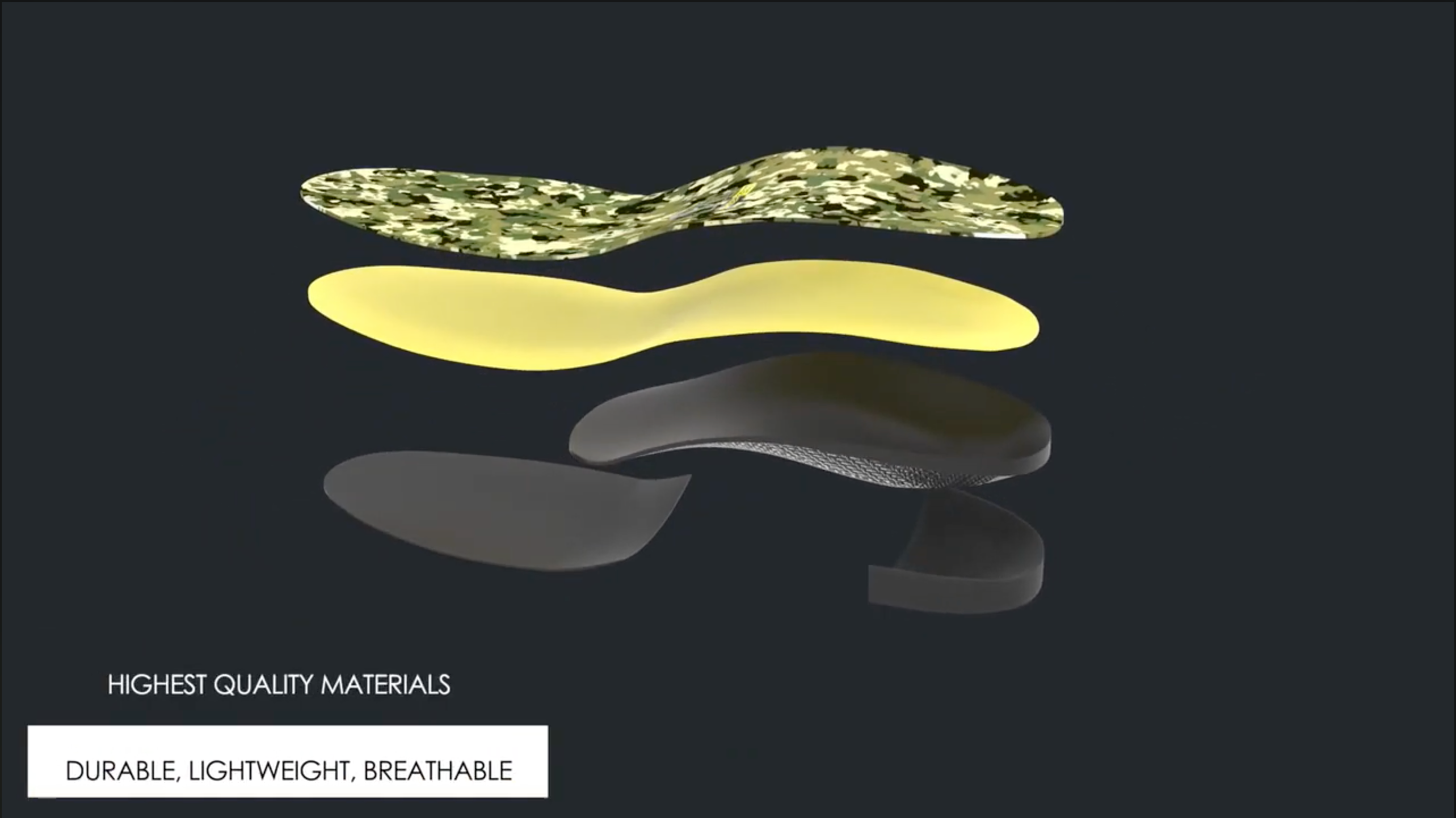 The Technology Behind SheepFeet
All SheepFeet are 100% custom and handmade in the USA to ensure quality and durability.  When making SheepFeet, we had the vision to make them rugged, and as hardcore as the hunting you do. The terrain you experience can often be harsh and unforgiving, resulting in wear and tear on your body that can lead to injury. Which is why we knew SheepFeet had to be strong enough to protect and support you through anything. Especially if you're packed into the backcountry where injury could cause significant problems or end your hunt. That's why SheepFeet are made with the highest quality, state of the art materials to be strong and durable when you need them the most.
LAYERING TECHNOLOGY
Our layering technology has been designed with your foot in mind with high quality materials, that will hold up against whatever you kick at them.

DURA COVER
Orthotics are under constant wear step after step, day after day and need a lot of protection – that's where our DURA COVER steps in. Each color in the camo pattern is broken up into different compartments to give it extra strength, durability and unmatched energy absorption.

XTREME CURL CUSHION
The XTREME CURL CUSHION is one of the top elite cushions on the market, absorbing an incredible 90% of the energy on impact. Unlike most cushions on the market today, XC2 is an open-cell structure which means it instantly absorbs and eliminates force upon impact and re-forms instantly. To top it off it's highly breathable, moisture resistance and is treated with an antimicrobial to fight bacterial growth and odor.

XTREME FOOT FRAME
The backbone of SheepFeet. The XTREME FOOT FRAME holds your foot in the proper corrected position, alleviating pain throughout the body. Unlike inserts that go off your shoe size, SheepFeet is 100% custom made. Since each foot is unique, our foot frame is made specifically to support YOUR foot shape, giving your body the exact support it needs which significantly reduce the chance of rolling.

HEEL STABILIZER
Our HEEL STABILIZER eliminates movement in the orthotic and keeps the heel in neuteral position which adds stability and strength throughout your foot reducing the chance of rolling or failing. It's a simple, easy way to add an extra measure or protection in the backcountry.